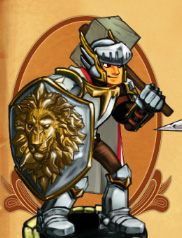 "Brave, powerful, and a narcissistic womanizer, Greg is far from your typical paladin."

Greg is one of the two options for the starting character. If you chose Val as your starting character, you can unlock him after clearing Stage 8.
Background

Edit
Starting Gear

Edit
For a list of Greg's starting gear, you can refer to Paladin's Starting Gear.
| Name | Level Req. | Description |
| --- | --- | --- |
| Critical 1 | 3 | 10% chance of doing extra damage |
| Critical 2 | 10 | 15% chance of doing extra damage |
| Critical 3 | 20 | 20% chance of doing extra damage |
| Critical 4 | 50 | 25% chance of doing extra damage |
Customization Options

Edit